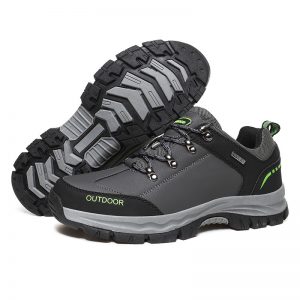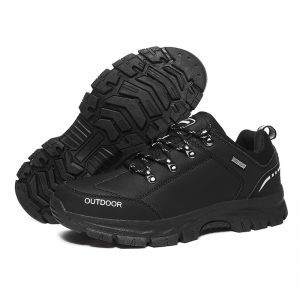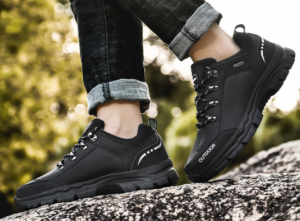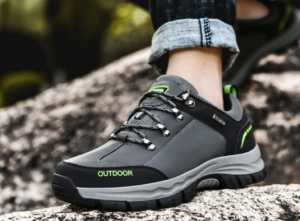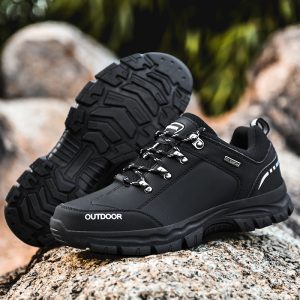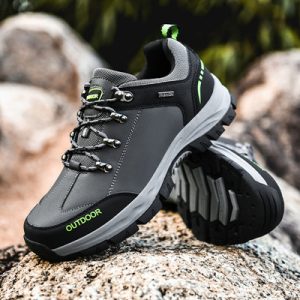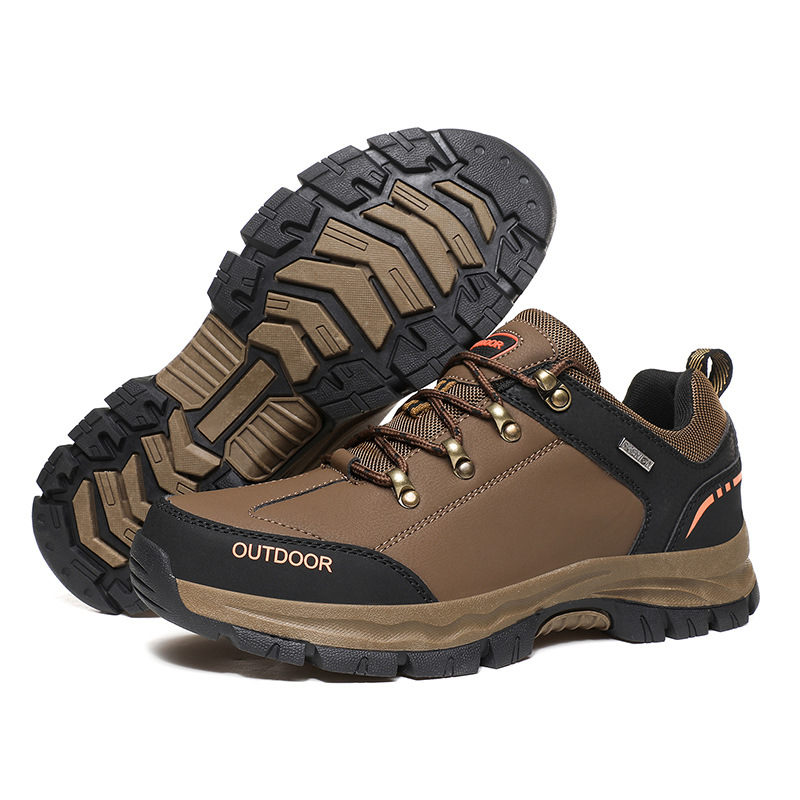 | | |
| --- | --- |
| product name | Hiking Shoes |
| Upper Material | Space leather |
| Logo | Custom Logo |
| Sole material | rubber |
| Season | Winter, Summer, Spring, Autumn |
| Gender | Men |
| Waterproof | Yes |
| Application | Outdoor Activities |
| Size | 39-46 |
| Feature | Soft and comfortable upper, lightweight design, light and smooth |
| Color | Black Khaki Army Green Brown gray, etc., can be customized |
| Packing | Carton |
| Sample Time | 3-5 Working Days |
| MOQ | 100pcs |
The structure of hiking shoes
Outsole structure: It is mainly composed of outsole rubber material and woven carbon plate to make it sensitive and accurate when climbing, while ensuring the hardness of the sole.
Midsole structure: It is composed of one-piece support or integral nylon preformed inner support cushion microporous shock-absorbing cushioning material, which further enhances the hardness and stability of the shoes and ensures the hardness of torsion.
Insole structure: It is a kind of soft and comfortable foot, the last layer of midsole structure, a good insole will provide more protection for the arch and heel.
Ankle structure: This is a design that provides support and protection for the ankle. In the design of the ankle protection structure, different rules for the shape of the ankle are often used to design the protection structure. Therefore, the appearance structure of professional hiking shoes is mostly high waist. Generally, the waist of shoes will be 5–7.5 inches high.
Tongue structure: The design of the tongue inner pad should be high and thick, and it should be close to the instep. The tongue of the shoe should not move easily and is in a good position. Stable and comfortable, and the tongue opening is large enough to put on and take off easily. At the same time, the overall folding manufacturing process should be adopted for the manufacture of the tongue.
Shoelace structure: There are mainly two types of shoelace structure, traditional symmetrical structure and asymmetrical structure. The former pays more attention to beauty, and the latter pays more attention to the coordination of shoelace and toe angle.
Shoe upper shape: Comfortable, soft and firm upper design, which will provide light weight and wear resistance and conform to the structure of the foot shape, reasonable margin of forefoot space, and firm heel. Try to use the overall material in the manufacturing to improve the advantages of the design. At the same time, the treatment of the shoe seam must be based on the pressure inside the shoe to ensure that the upper is not deformed under the pressure.
Outsole pattern: The design of the outsole pattern of professional hiking shoes is very particular. Just like the tires of Formula 1 racing cars, different tires are used in different weather conditions and roads and mines. Because of the different types of professional hiking shoes, the design of the big bottom pattern is completely different. Of course, there is another situation, even if the same type of hiking shoes, due to different design concepts and different costs, the texture of the outsole will be affected. That is to say, when the cost is low, only anti-skid will do, and the texture of the outsole will be fine. You won't be precise.